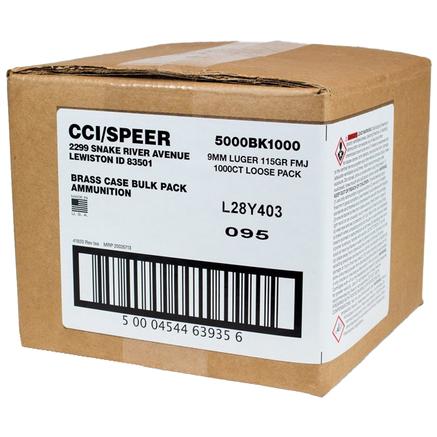 CCI Blazer Brass Handgun Ammunition 9mm Luger 115 gr FMJ 1145 fps 1000/ct Loose Pack
ITEM NUMBER:
CC5000BK1000
MFG PRODUCT #:
5000BK1000
SPECIFICATIONS
BRAND FAMILY:
BLAZER BRASS
DESCRIPTION
Blazer Brass handgun ammunition features reloadable brass cases, quality primers and clean-burning propellants. It offers reliable, accurate performance for target shooting.
Features:
Features reloadable brass cases, reliable primers and clean-burning propellants
Standard boxer-type primers and primer pockets make reloading easy
Affordable—great for target practice
Elevate your shooting skills with CCI Blazer Brass 9mm ammo, available in bulk quantities like 1000 rounds loose. Achieve optimum results with CCI 9mm 115gr FMJ ammo, a testament to precision and reliability. Immerse yourself in a seamless shooting experience, armed with the potential of 1000 rounds of 9mm ammo by Blazer Brass, ensuring accuracy in every shot.
Explore the power of Blazer Brass 9mm ammo 1000 rounds, an investment in excellence, and equip yourself with the performance of CCI 9mm bulk ammo.
Return to top