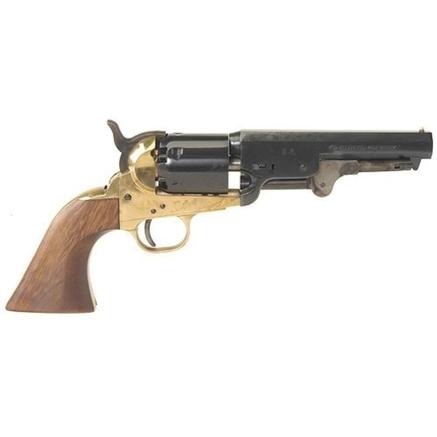 Pietta 1851 Navy Sheriff Brass Frame Pistol Muzzleloader Pistol with Walnut Grips - .44 cal 5-1/2"
MFG PRODUCT #:
PF51BR44512
DESCRIPTION
The 1851 Navy model was probably Col. Samuel Colt's favorite. He named it Navy Model, meaning it to be used by the Navy thanks to its small.36 cal. It was instead sold in larger quantities to the Army and became the inseparable companion of the Yankees during the Civil War.
The 1851 Navy Yank model was considered as one of the most brilliant single action revolvers thanks to its fast draw and light recoil. Available in the versions "SHERIFF'S Model" with shortened barrel (the favorite gun of Wild Bill Hickok, the legendary sheriff of Abilene), CIVILIAN Model, with silver plated brass backstrap and trigger guard, and the LONDON Model, with steel backstrap and trigger guard, like the ones produced from 1853 to 1856 in the city it was named after.