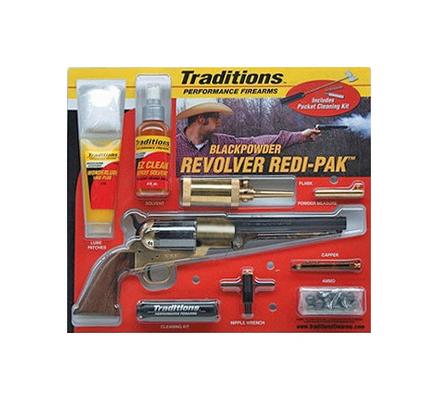 Traditions 1858 Army Redi-Pak Black Powder Revolver / Walnut / Brass .44 Cal 8" Blued Barrel
DESCRIPTION
Designed to be the future of revolvers, the top strap, full frame design made this revolver one of the strongest available. During the Civil War, its eight inch barrel and reliability made it highly sought after. This particular revolver has a 8" octagonal blued barrel, brass frame, brass guard, and walnut grip. It is .44 caliber and has top strap/post sights. It is 14.5" in length and weighs about 2.75 lbs.
Traditions has packed all the essential loading, shooting & cleaning accessories needed for you to shoot a Black Powder Revolver today! You only need to get your powder, caps, proper eye & ear protection & a place to shoot to begin enjoying your revolver.
The Traditions Black Powder Revolver Redi-Pak includes:
Cleaning Patches (25)
Nipple Wrench
Revolver Lead Balls: (18) .44 cal.
Brass Field Capper
Field Flask
Wonderlube 1000 Plus
Revolver Powder Measure
Muzzleloading Bore Solvent
Pocket Cleaning Kitrevolver.
NOTE: Black powder firearms cannot be shipped to certain states or Canada. For all other states.