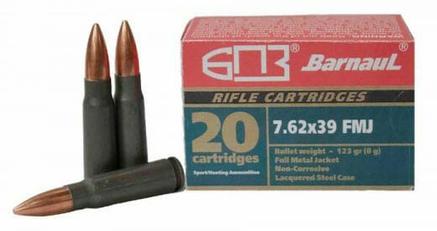 Barnaul Lacquered Steel Case Rifle Ammunition 7.62x39mm 123 gr FMJBT 20/ct
ITEM NUMBER:
YHBRN762x39FMJ123B
MFG PRODUCT #:
BRN 762x39 FMJ123 BOX
DESCRIPTION
For the best part of a century, Barnaul Ammunition has been used by the Armies of the World. This wealth of experience and battlefield testing has now been utilised in the Barnaul Ammunition Company range of porting ammunition and is now available to you. The ammunition is manufactured with a lead core, bimetallic covered projectile, steel lacquered, Zn coated steel case or a Polymer coating, all with non-corrosive Berden primers and meets strict European standards. The European certification mark ??? has been issued for the ammunition. This ammunition is of superior quality and the match of any commercial ammunition in the world. Do not be put off by the relatively inexpensive cost of this ammunition - this is genuine high quality, performance ammunition.