Templar Knife Slim Wood US Flag Tanto Black
MFG PRODUCT #:
M-WUS-23-1
SPECIFICATIONS
BLADE STEEL:
440C STAINLESS STEEL
HANDLE MATERIAL:
ALUMINUM ALLOY
KNIFE TYPE:
AUTOMATIC (OTF)
DESCRIPTION
Templar Knife out the front (OTF) knives feature a double action mechanism that is reliable when you need it. All of their knives also have a built-in safety feature. If the blade meets any resistance before locking out it will stop. So, in the event of it opening in your pocket you don't have to worry about the blade being fully deployed. The blade can be re-set by pulling it to the locked position. Once this is done the knife is back in operation. Features a glass breaker and pocket clip. Each Knife includes a black box and a nylon sheath.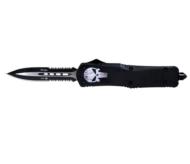 Templar Knife Slim Fallen Tanto Black
TKMFL23-1