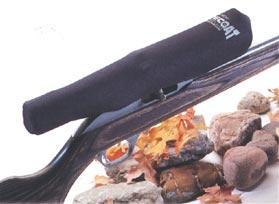 Scopecoat Scope Cover - Large 12.5"x50mm Black
DESCRIPTION
Measuring 12.5" X 50mm the Scopecoat Size Large 50 was designed to fit scopes with standard or "low" turrets, this slim fit cover is perfect for the field. Scopecoat safeguards your optics from dust, dirt, dings, scratches, and moisture with our high quality neoprene/nylon laminate.
Scopecoat protective covers fit a variety of optics. When choosing the right size Scopecoat, measure the overall length of your scope in inches and the objective lens in millimeters. Scopecoat stretches to custom fit to your optic while providing maximum protection. Our standard Scopecoat cylindrical covers can stretch approximately 1 to 1 .5 inches beyond the stated size. For example, a 10 .5" cover may stretch from 11 .5 inches to almost 12 inches. With this in mind, select the right size for either a relaxed or snug fit..
This neoprene product is not designed to be completely WATERPROOF, but is extremely water resistant. Your Scopecoat BREATHES. Scopecoat actually draws moisture and condensation away from your scope. You may temporarily waterproof your Scopecoat by using any commercial spray-on water repellent, following the manufacturer's instructions. If your scope is going to be exposed to extreme weather conditions such as rain, wet snow, etc., spray your Scopecoat exterior generously with water repellant. Allow the Scopecoat to dry completely before placing on your optic. After use, if excessive soil Is present machine wash in warm water with a mild detergent. Do not use Bleach or fabric softener, as the softener may leave a residue that can transfer to your lenses. Turn the Scopecoat inside-out and air dry for approximately 12 hours. Do not place in the dryer! Be careful not to fold or bend your Scopecoat. Creasing may cause indentations or a permanent break in the neoprene. If this happens, the damage may sometimes be resolved by washing the Scopecoat.