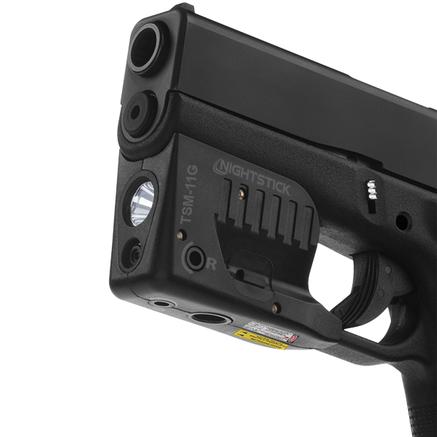 Nightstick Rechargeable Sub-Com Weapon-Mount Light w/Green Laser (Fits GLOCK G42 43 43x 48) etc) 150 Lumens
SPECIFICATIONS
BATTERY RUN TIME:
45 MINUTE
BATTERY TYPE:
LITHIUM-ION
LIGHT OUTPUT IN LUMENS:
150 LUMENS
MAX INTENSITY IN CANDELA:
2700 CANDELA
SWITCH TYPE:
MOMENTARY OR CONSTANT-ON
WATERPROOF:
IPX-4 (RESISTANT)
DESCRIPTION
The NightStick TSM-11G Subcompact Tactical Weapon-Mounted Light with Green Laser for Glock® G42/G43/G43X/G48 pistols uses a super-bright LED rated at 150 lumens working in conjunction with a precision-engineered miniature reflector to create a bright white beam of light rated at 100 meters. This weapon light features completely ambidextrous and intuitive toggle switches on each side of the light to operate the momentary-on and constant-on lighting modes or Class IIIa 532nm daylight-visible green laser. These lighting modes include white light, laser, or both light and laser. The two glass-filled nylon plastic housings of the TSM-11G is designed to lock onto the front of the pistol's trigger guard for secure installation and the lowest profile possible. The weapon light includes Nightstick MagMate™ USB magnetically coupled charger, a trigger lock for secure charging, and Allen screwdriver for installation and laser aim adjustments.
LED technology
45 minute run time
150 Lumens
Daylight-visible Class IIIa 532nm green laser (ECCN #0A504.f.)
Ambidextrous toggle switches
Momentary or constant-on flashlight
Sharp, focused 104-meter beam
IP-X4 Water-resistant
Impact & chemical resistant
Li-ion rechargeable battery
Includes Nightstick MagMate™ 3' USB magnetic coupled charger
Also includes an optional trigger lock for securing weapon during recharge
Limited Lifetime Warranty