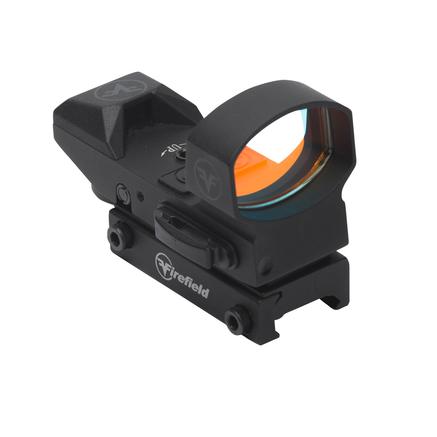 Firefield Impact Reflex Sight for MSR Platforms & Shotguns
SPECIFICATIONS
OPTICS ELEVATION ADJUSTMENT:
150 MOA
OPTICS EYE RELIEF:
UNLIMITED
OPTICS LENGTH:
3.03" (77MM)
OPTICS MOUNT SYSTEM:
PICATINNY WEAVER STYLE
OPTICS POWER MAGNIFICATION:
1X
OPTICS RETICLE:
4 PATTERN
OPTICS WINDAGE ADJUSTMENT:
150 MOA
WATERPROOF:
IP55 WATER RESISTANT
DESCRIPTION
Allowing shooters to engage their targets with both-eyes-open at close range, the Firefield Impact Reflex Sight is ideal for use on MSR platforms and shotguns. While many shooters customize their guns, Firefield Impact Reflex Sights are also customizable with multiple reticles and allow easy brightness level changes with digital switch brightness controls. Helping shooters stay aware of their surroundings, a wide angle lens permits a wide field of view and makes the reticle easier for the eye to pick up. 20-200 hours of battery life is achieved from a common CR2032 and is easily changed through the Impact's quick access battery compartment. The Impact's durable design makes it shockproof and an aluminum/polymer construction helps give the sight its IP55 water resistant rating.
Digital switch brightness controls
Quick access battery compartment
Multiple reticles
Parallax corrected
Unlimited eye relief
Shockproof design
Length (in/mm) - 3.03 / 77
Width (in/mm) - 1.37 / 35
Height (in/mm) - 2.08 / 53
Weight, oz - 4.7