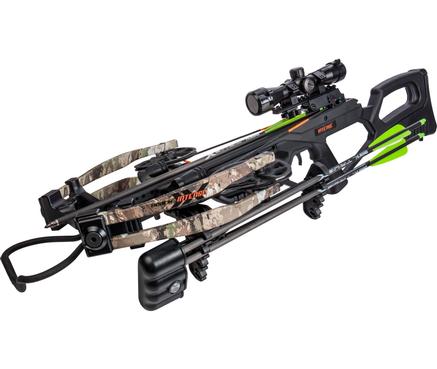 Bear Archery BearX Intense Crossbow Package with Scope Rope & Arrows RH/LH - Veil Stroke
ITEM NUMBER:
IBAC03A2A9185
MFG PRODUCT #:
AC03A2A9185
SPECIFICATIONS
ARCHERY COCKING DEVICE:
ROPE
ARCHERY COLOR:
VEIL STROKE
ARCHERY POWER STROKE:
12.7"
ARCHERY QUIVER CAPACITY:
4-ARROW
ARCHERY QUIVER INCLUDED:
YES
ARCHERY VELOCITY:
UP TO 400 FPS
DESCRIPTION
Engineered for performance, designed for tight quarters. The Bear X Intense crossbow measures just 10" wide cocked and 14" wide uncocked. Once cocked, the 12.7" power stroke delivers devastating speed up to 400 feet per second. This high-performance, tack-driving crossbow comes ready-to-hunt with 3 Bear X TrueX arrows, an illuminated scope, 4-arrow quiver, cocking rope, and rail lube / string wax.
Measures 10" wide cocked and 14" wide uncocked
Delivers intensely powerful performance in a compact platform
12.7" power stroke delivers hard hitting power at 400 feet per second
Anti-dry fire mechanism helps prevents dry firing
This ready-to-hunt crossbow package includes 3 Bear X TrueX arrows, illuminated scope, 4-arrow quiver, cocking rope, and rail lube / string wax