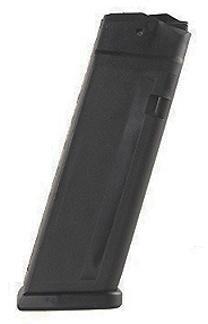 Glock Factory Original Glock 20 Magazine 10mm 15/rd Pkg'd
SPECIFICATIONS
MAGAZINE CALIBER:
10MM AUTO
MAGAZINE CAPACITY:
15 RDS
MAGAZINE FINISH:
BLACK POLYMER/HARDENED STEEL INSERT
DESCRIPTION
Standard factory Glock Magazines made of high resistance light weight polymer. This is a factory original, drop-free magazine for your factory Glock. Factory Glock magazines have a hardened steel insert encased in high tech polymer. This polymer coating protects the magazine and prevents deformation, even when dropped from a great height.
NOTE: GLOCK MAGAZINES CAN BE VERY DIFFICULT TO LOAD WHEN NEW. OFTEN THE LAST ROUND WILL NOT FIT UNTIL THE MAGAZINE HAS UNDERGONE A BREAK-IN PERIOD. IT IS RECOMMENDED THAT THE MAGAZINE BE LOADED WITH ALL BUT THE LAST ROUND AND LEFT FOR A FEW DAYS TO COMPRESS THE SPRING. CYCLING THE MAGAZINE FROM FULL TO EMPTY MULTIPLE TIMES CAN ASSIST IN THE BREAK-IN PERIOD.