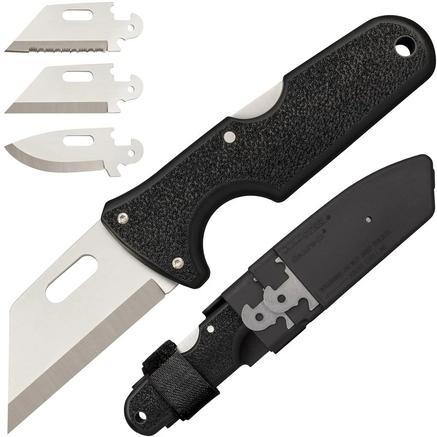 Cold Steel Click-N-Cut Exchangeable Blade Knife Black BDS - 2-1/2" Blade Satin
SPECIFICATIONS
SHEATH MATERIAL:
SECURE-EX
DESCRIPTION
The Cold Steel Click-N-Cut, (patent pending) features elements that are based on our extremely strong, Tri-Ad lock, so it's built for strenuous cutting chores. It comes complete with three interchangeable blades. There is a drop point blade and serrated and plain edged versions of our utility blade. The blades are double the thickness of most blades on the market, so they can stand up to the most strenuous cutting, scoring, scraping and gouging tasks you can imagine. Exchanging a blade is easy. The handle has a lock bar release, similar to the release on a folding knife. When the lock bar is pressed the blade slides easily out. Keep the lock bar pressed and slide a new blade in and release the lock bar and the blade will "click" into place. The Click-N-Cut includes a belt sheath that will hold the knife with one of the blades installed and it has integral pockets for the two remaining extra blades. Extra replacement blades are also available for purchase separately.
Weight: 2oz
Blade Thickness: 1.5mm
Blade Length: 2-1/2"
Blade Steel: 420J2
Handle Length/Material: 4" High Impact ABS
Overall Length: 6-1/2"
Additional Features: Secure-Ex® Sheath