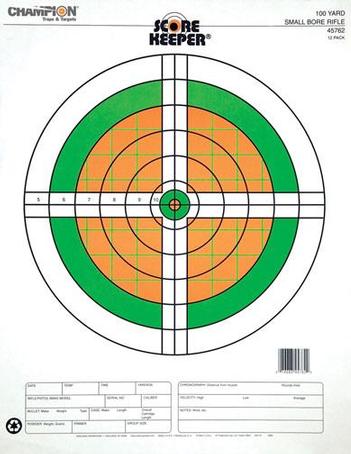 Champion Scorekeeper Targets - Fluorescent Orange & Green Bull - 100 yd. Small Bore Rifle (12-Pack)
SPECIFICATIONS
SHOOTING ITEM TYPE:
TARGETS
TARGET FEATURE:
HIGH VISIBILITY, NOTES SECTION
TARGET TYPE:
PAPER TARGETS
DESCRIPTION
The Bright fluorescent colors make it easier to pick out your mark and know where you hit. A "built-in" record-keeping section lets you track vital data to refine your loads and zero-in on tight groups. Available for rifles, pistols, and airguns.
The Power of Paper Targets
Champion offers a tremendous array of paper targets to satisfy a wide range of shooting needs. From precision shooting for hunters and competitors to "gee Dad this is fun" plinking with family, these targets breathe new life into this time-honored sport.