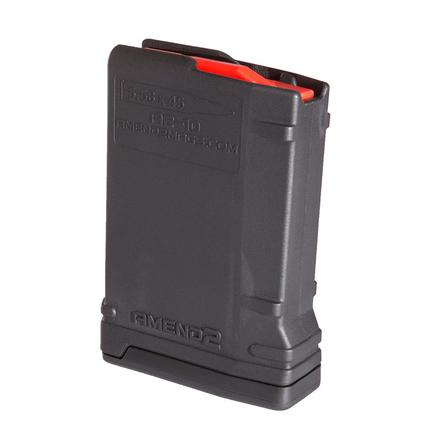 Amend2 AR-15 Polymer Magazine MOD-2 Model - 10/rd Black
MFG PRODUCT #:
556MOD2BLK10
SPECIFICATIONS
MAGAZINE CALIBER:
.223 REM/5.56MM
MAGAZINE CAPACITY:
10 RDS
MAGAZINE FINISH:
BLACK POLYMER
WEAPON MFG MODEL:
AR-15/M16 COMPATIBLE
DESCRIPTION
The Amend2 10-round magazine is a sturdy, reliable 5.56x45 NATO (.223 Remington) AR15/M4/M16 magazine made of advance polymer material. It is a light, durable and excellent alternative to the standard M4/M16 USGI aluminum magazine. The magazine comes in a variety of colors including Black, Flat Dark Earth, OD Green and Gray.
Sturdy Impact resistance polymer with textured grip
Anti-tilt super follower
Heavy duty, non-memory, and non-corrosive stainless steel spring
Made in the U.S.A.
Material able to cerakote
Return to top