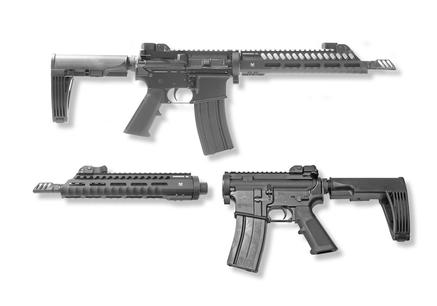 Diamondhead Transporter Takedown Pistol 5.56mm 30rd Magazine 11.5" Barrel Black
SPECIFICATIONS
GUN MODEL:
TRANSPORTER TAKEDOWN 11.5
MODEL SERIES:
TRANSPORTER TAKEDOWN
DESCRIPTION
Diamondhead USA's new 'TRANSPORTER' Takedown Pistols assemble and disassemble in less than 5 seconds. Simply insert and twist to assemble; pull, twist and separate to take down – no tools are required. The Transporter is easily stowed in a backpack or computer case. The fully adaptable Transporter comes as a complete unit in four barreled-handguard lengths featuring Diamondhead USA's NEW VRS T Series 4 handguard, the renowned Diamondhead alloy Integrated Sighting System and a T-Flash muzzle device.
Features:
Handguard: NEW VRS T Series 4 Free Floating
Barrel: 11.5" Black nitride
Muzzle Device: Diamondhead T-Flash
Sights: Diamondhead Alloy Integrated Sighting System
Dimensions: Lower: L 14-5/8" X H 7-1/2" Fore-end: L 9-1/2" X H 2-1/2"
Caliber: 5.56mm NATO
Bolt Carrier: Black nitride finished
Upper and Lower Receiver: Forged and Mil-Spec out of 7075 T6 aluminum. Type III Hard Coat Anodized
Brace: Gear Head Works adjustable Tailhook Pistol Brace Mod 2