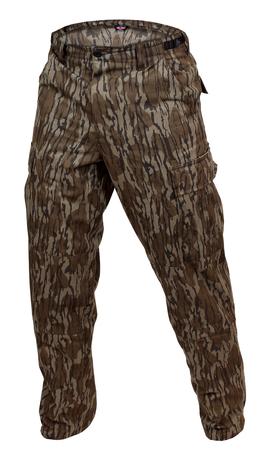 BOTTOMLAND BDU PANT MED 32-34 WAIST 32 INSEAM
SPECIFICATIONS
APPAREL COLOR:
ORIGINAL BOTTOMLAND CAMO
DESCRIPTION
The classic BDU pant was adopted by the U.S. military as their primary combat uniform in the early 1980s and served well into the mid 2000's but by adding a YKK® brass zipper and a Drop N accessory/phone pocket, these pants are even better today. Made in Original Bottomland Camo.
Created by Toxey Haas nearly 30 years ago, Bottomland camo was one of the first patterns offered by Mossy Oak. Patterned on the natural foliage of the Mississippi bottomland. Bottomland is a mixture of different shades of brown, with small amounts of darker colors to break up the pattern. The camo patterns design works well at breaking up silhouettes by mimicking trees and ground cover.
Bottomland Original camouflage is a great pattern to help the hunter blend into the back ground . Natchez Shooters Supplies is proud to be the exclusively distributor of Tru-Spec's Bottomland Original Camo. Bottomland camo is one of the grandfathers of the Mossy Oak line of camouflage and still an excellent choice for hunters today.
Features: (Match with illustration image)
1. YKK brass zipper fly
2. Two adjustable side tabs with bartack reinforcements
3. Belt loops have a 2-1/4" wide opening and are secured with two bartacks
4. Two front slash pockets
5. Two rear inserted pockets with snag proof and fused pocket flaps
6. Two bellowed three pleated cargo pockets with drain holes & snag proof and fused button flaps
7. DropN accessory/phone pocket
8. Reinforced seat
9. Reinforced knees
10. Nylon drawstring leg ties
*Note – color shading will occur on products constructed of different fabric blends. To insure a matching set please purchase all shirts, jackets and pants in the same fabric.
SUGGESTED WASH INSTRUCTIONS:
Turn the jacket and trousers inside out before you wash them. (This will help reduce color fading.)
Machine or hand wash without optical brighteners in cold water.
Rinse completely.
DO NOT WRING OR TWIST. Hang dry or machine dry on low to medium setting, between 140-160 degrees Fahrenheit (for cap do not exceed 130 degrees Fahrenheit).
DO NOT USE BLEACH. (CHLORINE or NON- CHLORINE)
DO NOT USE FABRIC SOFTENERS.
DO NOT DRY CLEAN, STARCH, or COMMERCIALLY HOT PRESS.