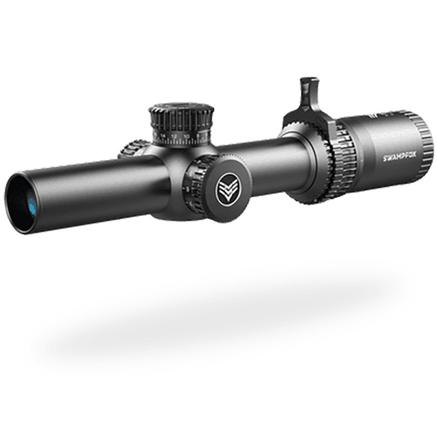 Swampfox Tomahawk LPVO Series Rifle Scope - 1-4x24 30mm SFP IR Guerrilla Dot BDC
MFG PRODUCT #:
ATK14241-B
SPECIFICATIONS
OPTICS ELEVATION ADJUSTMENT:
100 MOA
OPTICS EYE RELIEF:
3.7-3.8"
OPTICS FIELD OF VIEW @100YDS:
95.1-23.6 FT
OPTICS MOA ADJ INCREMENT:
1/2 MOA
OPTICS RETICLE:
GUERRILLA DOT BDC
OPTICS TUBE DIAMETER:
30MM
OPTICS WINDAGE ADJUSTMENT:
100 MOA
DESCRIPTION
The Swampfox Tomahawk is hands down the best value LPVO on the market today. This optic provides clarity, durability and accuracy that is unrivaled by any other Low Power Variable Optic at similar price points. Sporting a Second Focal Plane (SFP) glass etched illuminated reticle designed for dynamic shooting, and a throw lever for rapid magnification adjustment, this highly versatile scope is ideal for 2 & 3-gun competitions.
Guerrilla Dot BDC Reticle - Calibrated for the AR platform with a 16" barrel and using 5.56 NATO 55gr FMJ, this reticle does it all. It has a 1.3 MOA quick strike red dot, an 18" outer circle for quicker strikes at short range, holdovers out to 600 yards, and ranging capabilities for plinker plates and humanoid target shoulders out to 500 yards.
Return to top